That means we pay attention to your physical, emotional and spiritual well-being. We put your wishes first: honoring, respecting and listening to every patient and family we serve. Our team creates an individualized care plan just for you.
Provides pain and symptom relief
Offers emotional support and help with matters such as living wills
Visits patients and provides breaks for the family caregiver
Visits weekly or as often as needed
Offers grief support, education and peace of mind
Gives personal care such as bathing with activities of daily living
Provides pain and symptom relief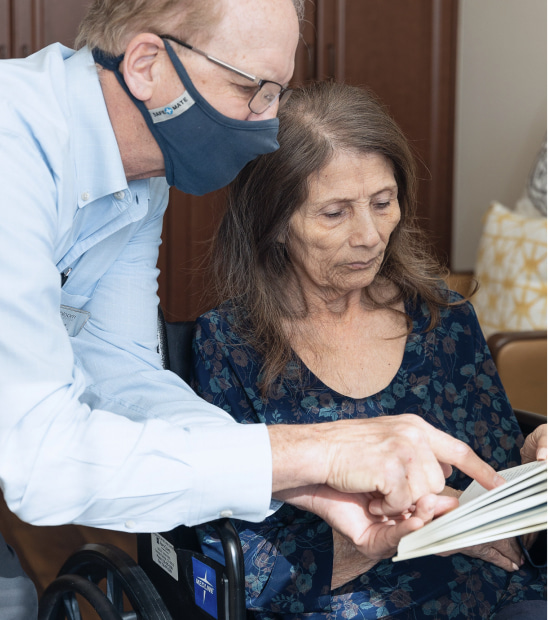 Bloom Hospice

is committed to providing comfort and dignity to all
We help patients spend their last days surrounded by the people they love in the comfort of their home. Our services extend beyond the confines of a physical facility as we provide care in private homes, assisted living communities, nursing homes, and group homes. We provide caregiver support, integrative therapies, and grief support, as well as palliative care for those who are not yet ready for hospice.
We understand the importance of continuity in healthcare relationships and allow patients to retain their own doctor. Our team collaborates closely with the patient's physician and, if desired, we can oversee care responsibilities. Medications, medical equipment and supplies are covered by Bloom Hospice and delivered to the patient's doorstep.
Statistically, patients on hospice live longer
It's not unusual to feel better once the pain and symptoms of your illness are better controlled. According to a study in the Journal of Pain and Symptom Management, hospice extended life an average of 29 days. By careful management and more.
Most hospice care occurs at home
Hospice is not a place, but a philosophy of care that involves the patient's entire support system. 90 percent of our patients are cared for in their home, or the place they call home, surrounded by the people and things they love.
Retain access to your existing medical care
We can offer therapies that better manage symptoms and provide comfort. Hospice means shifting from the goal of a longer life through treatments, to creating the best quality of life for the days you have left. You may continue to see your regular healthcare provider.
Hospice is a covered benefit
Hospice is covered by Medicare, Medicaid and most private insurance plans. Our goal is to provide end-of-life services to all patients, regardless of their ability to pay. Hospice is for those patients who have a life expectancy of six months or less.
Goals and needs may change over time. If you choose to seek aggressive medical treatment, hospice may not be for you. You have to qualify for hospice, but you can opt out at any time for as long as you like. You can opt back in later, as long as you qualify.
Hospice covers a wide range of diagnoses
We care for a wide range of people who have decided to no longer pursue a cure for their illness, and instead seek comfort, symptom management and quality of life. Patients have life-limiting illnesses such as cancer, congestive heart failure (CHF), chronic obstructive pulmonary disease (COPD), kidney disease, Alzheimer's, Parkinson's, Amyotrophic Lateral Sclerosis (ALS), and more.
The end of life is a very personal experience with a lot of medical needs. We want to know what is most important to you and what a good day looks like to you. Together, we design the care you want, in the manner you choose, on your terms.
Hospice is for the entire family, now and later
The support we provide to the family lessens the burden of care and the stressfulness of death.
Ready to get started?
Talk to us today