At Bloom Hospice, we understand that end-of-life care is a deeply personal journey. That's why our commitment to excellence is more than just a standard—it's a heartfelt promise to you and your loved ones. With unwavering integrity, we offer compassionate, individualized care that honors your unique needs and wishes. Our expert team is here to provide not just medical support, but emotional comfort as well. From your first interaction with us to the moment we deliver essential medical care to your doorstep, our focus remains steadfast: your well-being, peace, and dignity.
Our nurses aides assist with daily living activities, from bathing and grooming to meal preparation, making each day a little easier.
Our social workers help navigate the emotional and logistical challenges of end-of-life care, from coordinating services to offering emotional support.
Our nurse practitioners work closely with the medical team to fine-tune your care plan, providing an extra layer of medical expertise and comfort.
Our nurses are the cornerstone of your daily care, expertly managing symptoms and ensuring your physical comfort.
Our Medical Director oversees the clinical aspects of your care, ensuring that all treatments are aligned with best practices and your individualized care plan.
Our dedicated volunteers offer a listening ear, companionship, and emotional support, enriching your quality of life.
Our chaplains provide spiritual guidance and emotional solace, respecting all faiths and belief systems.
Our bereavement counselors offer invaluable emotional support and coping strategies for families navigating the complexities of loss.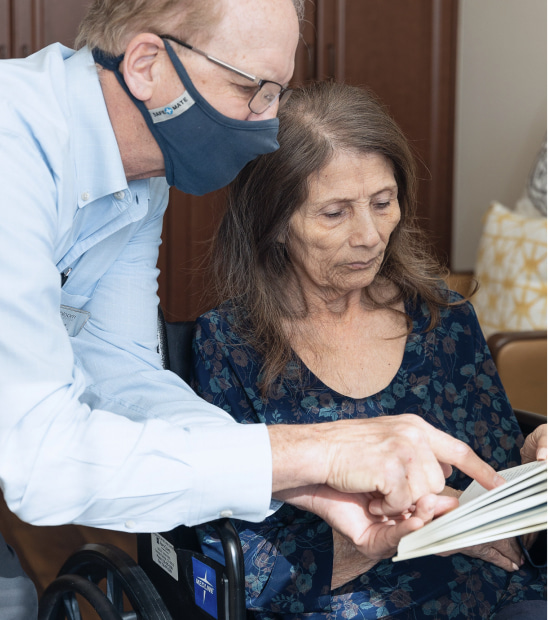 Integrity

in Every Interaction: The Bloom Hospice Approach
At Bloom Hospice, integrity is the cornerstone of our in-home care approach, guiding us in every interaction with you and your loved ones. We understand that trust is essential, especially when inviting us into your home, and we earn that trust through transparent communication and a commitment to excellence.
Our dedication to compassionate care is not just a standard we aim for; it's the essence of our practice. We bring clinical excellence directly to your home, offering individualized medical care that is both rigorous and deeply empathetic. This ensures not just your physical well-being, but also your emotional and spiritual comfort. In essence, Bloom Hospice transforms your home into a sanctuary of integrity, compassion, and excellence, making each moment as meaningful as possible for you and your family.
Statistically, patients on hospice live longer
Research has shown that the comprehensive, individualized care provided by hospice services can often lead to a better quality of life and even extend life expectancy in some cases.

Most hospice care occurs at home
Hospice care is most commonly provided in the home setting, allowing patients to remain in a familiar environment, surrounded by loved ones, while receiving specialized medical and emotional care.

Retain access to your existing medical care
Opting for hospice care doesn't mean you have to abandon your current healthcare providers. It's an additional layer of support that works in conjunction with your ongoing care.

Hospice is a covered benefit
Financial concerns should not be a barrier to receiving quality end-of-life care. Hospice is covered by various insurance plans, including Medicare and Medicaid, making it a viable option for most.

Hospice care is not a one-way street. If your condition improves or you decide to pursue other types of treatment, you have the flexibility to stop receiving care.

Hospice covers a wide range of diagnoses
Hospice care is not limited to end-stage cancer or any specific illness. It's a specialized form of care designed to provide comfort for a variety of terminal conditions, offering both physical relief and emotional support.

The patient's wishes are central in hospice care. You have the autonomy to make decisions about your treatment, pain management, and overall care plan, ensuring that your individual needs and preferences are respected.

Hospice is for the entire family, now and later
Hospice care extends its support to family members, offering emotional and psychological support during the care period and bereavement services afterward.

Ready to get started?
Talk to us today